Are you in search of an energy efficient, compact, durable high speed hand dryer? The ExtremeAir hand dryer by American Dryer fits the bill! Drying hands in just 12 seconds, the ExtremeAir EXT features adjustable power (since it lacks a heating element, it uses far less power than typical hand dryers) and is 43% smaller than older model high-speed hand dryers. Its compact, stylish design makes it a fantastic addition to any restroom, while its vandal resistant features help to secure its durability so it lasts. The motor, heater and electronics are not accessible to vandals, and the air intake is shielded to enhance the safety features. With a one piece fixed nozzle that is virtually indestructible, American Dryer's ExtremeAir hand dryer is built to last and continuously perform to meet your facility's needs.
Available in a variety of finishes including steel with satin chrome finish (EXT7-C), brushed stainless steel (EXT7-SS), steel with black graphite epoxy finish (EXT7-BG), steel with white epoxy finish (EXT7-M) and flame-retardant white ABS (EXT7), there is sure to be an ExtremeAir dryer to make a stylish and eco-friendly addition to your restroom. Its heavy-duty, one-piece cover options offer a variety of choices and each model offers the same level of performance you would expect from this powerful, advanced high-speed hand dryer. No need to guess your electrical configuration, since all of the ExtremeAir hand dryers come with universal voltage motors, which automatically adjust to your electric voltage. Additionally, only the EXT series can have up to 3 units placed on one dedicated 20 amp line due to their low power draw.
Not only is this modern hand dryer stylish and durable, the ExtremeAir EXT hand dryer is also the most eco-friendly option on the market! Its hygienic infused antimicrobial air delivery system help ensure that users have a more sanitary hand drying experience, all while using 90% less energy than other hand dryers. At a cost savings of 98% compared to paper towels, it's easy to see why American Dryer's ExtremeAir is a top choice for your washroom. With fantastic savings and free shipping available with your order of ExtremeAir dryers, visit HandDryerSupply.com to invest in this exceptional hand dryer and reduce your business's carbon footprint!
Extreme Air EXT7-BG Hand Dryer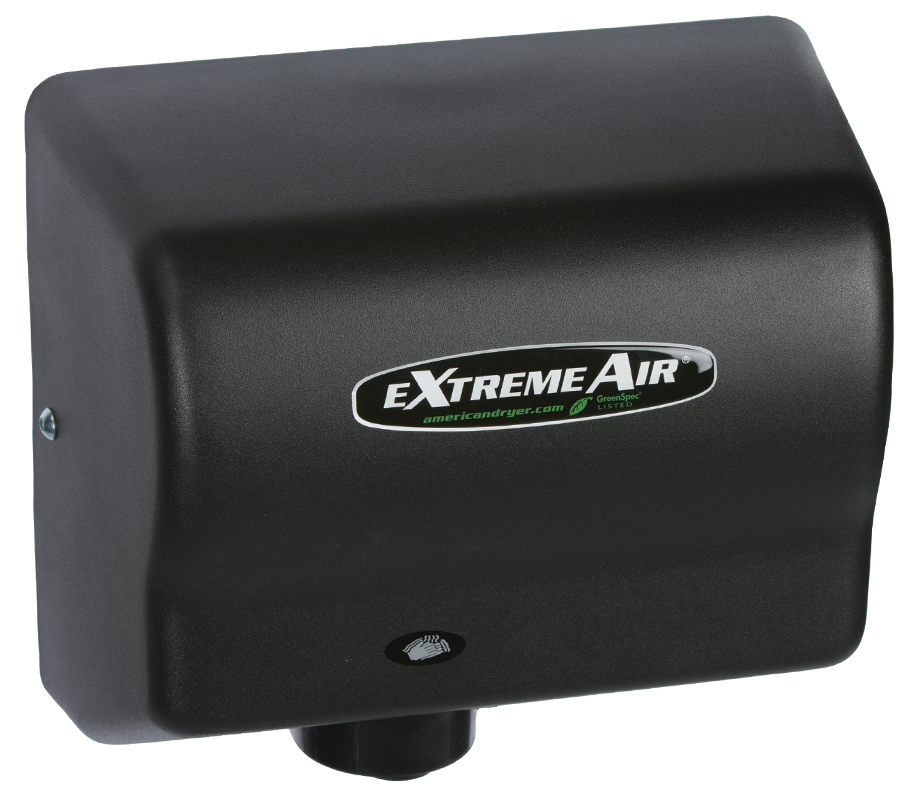 Recent Posts
Are you looking for an effective and efficient hand-drying method for guests of your commercial bus …

While not many people realize it, hand dryers are a key part of any commercial bathroom. They're t …

The most challenging component of hand washing is drying, especially in public restrooms. Because …