When it comes to meeting the diverse needs (energy efficiency, ADA compliance, hygiene) and wants (sleek design, universal voltage) of any facility, World Dryer has a fast dry hand dryer to fit the bill. The SLIMdri by World Dryer is a compact, high speed hand dryer that features SteriTouch® antimicrobial technology to ensure a more hygienic dry. Drying hands in only 10-15 seconds, the SLIMdri ensures you always experience a thorough and complete hand dry, therefore decreasing the likelihood that you will spread germs after its use. Since it is extremely energy efficient and is one of the lowest cost in use hand dryers available, the SLIMdri is a far better choice than using paper towels in your facility.

One of the best features of this fast and powerful hand dryer is that although it is surface mounted, it only protrudes 4 inches from the wall, making it ADA compliant and a great choice for a variety of restroom environments. Finished with SteriTouch hygienic antimicrobial technology, this universal voltage ADA-compliant hand dryer helps to reduce the spread of harmful mold, fungi and bacteria. Yes, that's right, this fast hand dryer not only ensures a more hygienic dry, but adapts to all electrical supplies, making installation a breeze. It's no wonder the SLIMdri hand dryer is a top choice for so many restrooms!

As one of the fastest hand dryers on the market, the SLIMdri is an excellent choice, especially when you are looking to meet ADA hand dryer requirements and provide users a more sanitary hand drying experience. Backed by a 10 year limited warranty, this high speed dryer leaves the competition in the dust. Don't let the studies with outdated, older hand dryers leave you wondering if paper towels are a better choice - high speed hand dryers like World Dryer's SLIMdri are incredibly fast, hygienic and energy efficient. Better for you, kinder to the environment, and smarter for your wallet - it's an obvious choice to choose this high speed hand dryer for your facility's needs!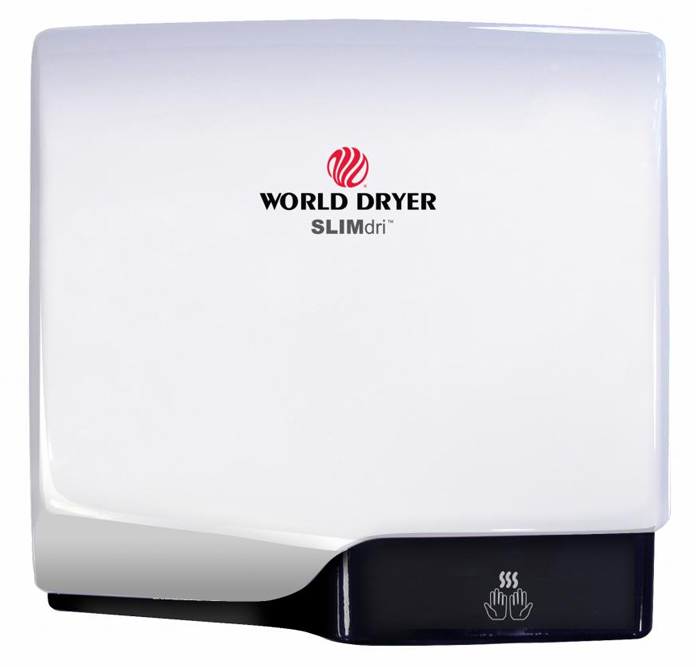 The white L-974 SLIMdri Hand Dryer
Recent Posts
Are you looking for an effective and efficient hand-drying method for guests of your commercial bus …

While not many people realize it, hand dryers are a key part of any commercial bathroom. They're t …

The most challenging component of hand washing is drying, especially in public restrooms. Because …