Palmer Fixture has created an amazing new high-speed dryer as part of its Ultra Series: the BluStorm Bolt. By utilizing its powerful, patented parallel dual air outlets, the BluStorm Bolt hand dryer is able to dry hands in just 10 seconds with a very low sound level. Because it is so effective, yet runs quietly, the Bolt is an ideal choice for environments that require quieter hand dryer models in their facilities. One of the more novel features of this new dryer is its blue LED action light that illuminates the sensor range to guarantee users a fast and efficient hand drying experience.
Featuring a heating element with thermostat protection that helps to warm the air prior to it blowing onto hands, the BluStorm Bolt hand dryer is still one of the most energy efficient hand dryers available. Since it includes an on-off switch for the heating element, in addition to adjustments for both the airspeed (79-158 mph) and the sensor, the Bolt uses energy in a smarter, more effective way and allows for more flexibility in its overall operation. The Bolt is offered in both 110-120 volt (HD0923-09) and 220-240 volt (HD0924-09).
The sleek and slim BluStorm Bolt hand dryer has a cover that is constructed out of durable brushed stainless steel and is ADA compliant thanks to its super slimmed-down profile. Protruding just four inches from the wall, the Bolt blends seamlessly into a variety of restroom environments. Its cover screws are located on the bottom of the dryer, helping this model maintain its smooth appearance and desirable design. The Bolt is both easy to maintain and service and is backed by a 5 year limited warranty.
HandDryerSupply.com offers free shipping on this fantastic new dryer and features an outstanding price that will save you over $100 per unit! Be sure to check out the new BluStorm Bolt hand dryer by Palmer Fixture and help to bring the future into your facility today!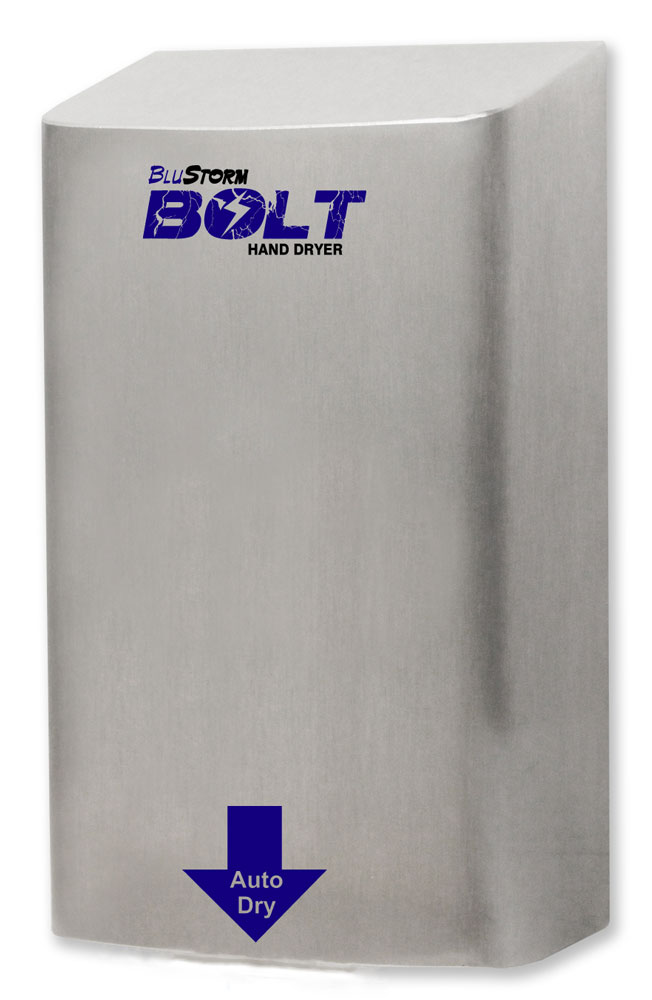 Recent Posts
Are you looking for an effective and efficient hand-drying method for guests of your commercial bus …

While not many people realize it, hand dryers are a key part of any commercial bathroom. They're t …

The most challenging component of hand washing is drying, especially in public restrooms. Because …