Are you ready to dry your hands at 237 miles per hour? It's possible, with the Slim Mitsubishi Jet Towel Hand Dryer, which can dry your hands in just 10 seconds. Get ready to be impressed, because this machine is the quietest and most energy-efficient high speed hand dryer in the world. Not only does the Jet Towel reduce the cost of hand drying by 95% over paper towels, it also helps to lower the carbon footprint and waste output of any restroom. That leaves you with a happier wallet and a better environment!
Featuring high-speed hand drying and low-noise touchless operation, the Jet Towel is an excellent choice for your facility's needs. In addition to eliminating the need to use wasteful paper towels, this energy efficient hand dryer only uses between 1.9-3.5 watts to dry your hands, therefore costing only $25 to operate on an annual basis! Worried about germs? Some people might be concerned about hygiene when using a hand dryer, but there's no room for concern here. The Jet Towel hand dryer wipes water from hands quickly, and then ensures that water is safely contained in a drain tank for easy cleaning. This innovative features allows the Jet Towel to keep the hand drying area consistently clean throughout the day, with zero water mess. That means unmatched cleanliness for the hand drying area in your restroom facility!
Because of its inventive wave shaped nozzles paired with novel fluid-control technology, the Slim Mitsubishi Jet Towel provides extremely efficient low-noise operation. In fact, its operating volume is so drastically diminished that the Jet Towel hand dryer makes an ideal choice for offices, libraries, school, studios and museums and other users who desire a quieter hand drying experience. In addition, the upper section of the front panel of this dryer has been lowered and fitted with a "Child Sensor" to guarantee detection of small hands. Although children might have difficulty utilizing other dryers, the Jet Towel helps to ensure that even if they cannot reach deep inside, this dryer's sensor will detect little hands and start/stop accordingly, while also allowing them to make use of the open-side design. Finally, a blue LED light aids in the drying process by providing improved visibility and thorough drying from wrist to fingertips.
With its numerous innovative features and its ability to save you money while helping the environment, the Slim Mitsubishi Jet Towel Hand Dryer is a fantastic choice for your facility's needs. Whether you are looking to provide a quieter, effective hand dryer for an environment with particular noise specifications or are hoping to outfit a restroom better suited for younger audiences, this hand dryer is the one to choose. HandDryerSupply.com has the guaranteed lowest price on the Slim Mitsubishi Jet Towel Hand Dryer, with free shipping on all orders. Check out our website today to learn more about this modern hand dryer, an incredibly fast, yet quiet machine, ready to help propel your facility to jet-worthy performance!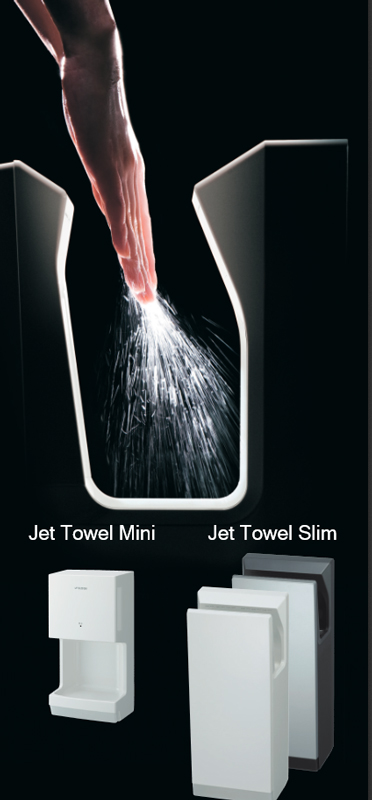 Recent Posts
A crucial aspect to consider when designing accessible commercial restrooms is complying with th …

Educational institutions, including schools, colleges, and universities, have a responsibility to p …

For hotel owners and managers, providing a pleasant restroom experience for guests is of the utmost …