Have you ever gone to dry your hands in a public restroom, only to be deafened by the noise made by the hand dryer? Many hand dryers have a reputation for being extremely loud and a lot of people avoid using them for this very reason. You may have seen people covering their ears in your office's washroom and running for the exit as a result of the jet engine-level noise that comes with operating a hand dryer. What good is a high speed hand dryer if it's so loud it makes you want to avoid turning it on in order to save your hearing? Fortunately, the Mitsubishi Jet Towel is not only extremely efficient, drying hands in as little as 9 seconds, but it also features touchless operation and is one of the quietest hand dryers ever built, making it an ideal high-speed hand dryer for those wishing to dry their hands both quickly and quietly.

So how does the Mitsubishi Jet Towel hand dryer operate at such low noise levels? Its innovative, wave-shaped nozzles significantly reduce the amount of noise generated by the airflow dispensed from its jets. Paired with novel fluid-control technology, the Jet Towel by Mitsubishi is able to achieve extremely efficient low-noise operation. This model is the perfect choice for offices, libraries, studios, schools and museums as it is one of the quietest hand dryers ever built. In order to be even more accessible to children (as they often frequent the environments previously listed), the Mitsubishi electric Jet Towel has been built with a child-conscious design, including a "Child Sensor" in the upper hand-drying section to ensure detection of small hands. The upper part of the front panel has also been lowered so that younger children are able to easily reach the dryer in a comfortable, natural position (standing) rather than straining and reaching to properly dry their hands.
The Mitsubishi JT-SB-116JH2 hand dryer utilizes two jets of air traveling at 237 mph to quickly wipe water from hands. In addition, a blue LED light aids in the drying process by providing better visibility during use to ensure thorough drying from the wrist all the way to the fingertips. Any water collected from users' hands is safely contained in a drain tank for easy cleaning that allows the Jet Towel to maintain a clean hand drying area throughout the day, eliminating any water mess. As a result of its electrical efficiency, the Jet Towel helps to keep your facility's operating costs low. At only $25 per year to operate and no paper waste, the Jet Towel costs 98% less than paper towels! In addition, the towel-eliminating touchless hand dryer creates 85% less of an impact on the environment, helping you save money and the environment at the same time.

With the Mitsubishi Jet Towel hand dryer, you can say goodbye to having to withstand earth-shattering noise in order to thoroughly dry your hands. Incredibly quiet, energy-efficient and able to dry hands in under 10 seconds, this high speed hand dryer is an excellent choice for any facility and especially for those seeking to ensure users experience a quiet, less-disruptive environment in the washroom. With a slim modern design and touchless operation featuring unmatched cleanliness, it's time you eliminate the senseless noise and instead add form, function and faster performance to your facility.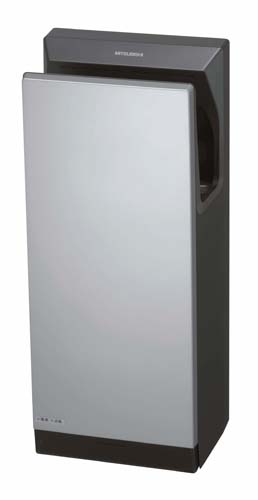 Recent Posts
Are you looking for an effective and efficient hand-drying method for guests of your commercial bus …

While not many people realize it, hand dryers are a key part of any commercial bathroom. They're t …

The most challenging component of hand washing is drying, especially in public restrooms. Because …