It's that time of year again – people are getting their flu shots, stocking up on cold medicine, tissues and canned soup and dreading the spread of that knock-you-out for two weeks flu virus that sets everyone back and makes them feel like staying in bed until spring. You may already be taking all the right precautions, including washing your hands on a regular basis, but did you know that while they dry your hands, some conventional hand dryers blow bacteria right back out and defeat the purpose of you having cleaned them in the first place? That's certainly not going to help keep the flu at bay! Fortunately, American Dryer has created the ExtremeAir Cold Plasma Clean (CPC) hand dryer, the most hygienic hand dryer on the market!
How does it work? The CPC technology purifies and sanitizes the surrounding air during hand drying and kills germs around and on your hands – now that's a relief! Worried about chemicals? There's no need to be, as this ingenious technology destroys bacteria naturally, so you don't need to be concerned about unnecessary chemicals coming into contact with your skin. American Dryer's Extreme Air CPC dryer works incredibly fast, drying hands in 10-15 seconds and comes in a durable, compact design that fits well in a variety of washrooms and other facilities. With adjustable speed and sound, plus the benefit of universal voltage, this high speed hand dryer is an excellent choice for your needs during flu season, and any season all year round!

Fight the flu this season using the only wall mounted hand dryer that actually kills bacteria, microbes and viruses on and around hands without the use of chemicals. The ExtremeAir CPC hand dryer by American Dryer is proven to kill E. coli, Staph, MRSA, C.diff and Salmonella and is the most hygienic method of hand drying ever! Choose the ExtremeAir CPC hand dryer to say goodbye to germs this flu season and hello to naturally clean, dry hands.
The Brushed Stainless Steel Extreme Air CPC9-SS Hand Dryer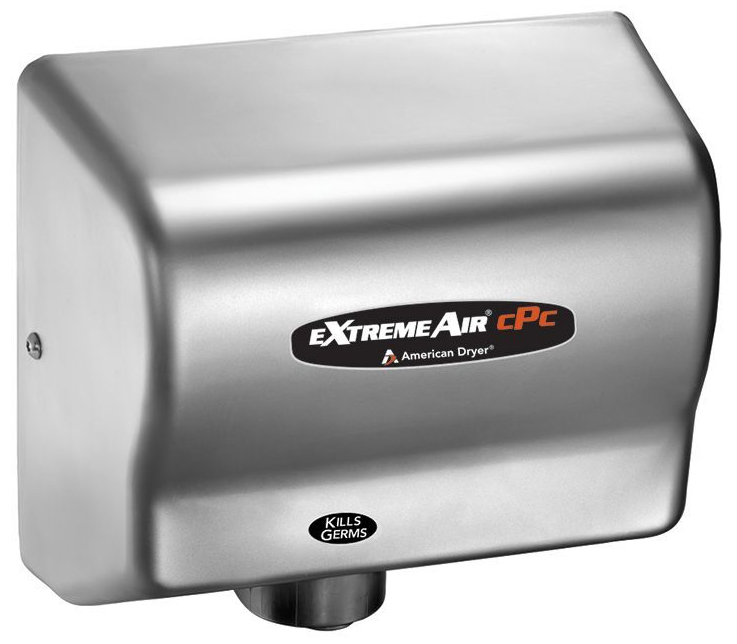 Recent Posts
Are you looking for an effective and efficient hand-drying method for guests of your commercial bus …

While not many people realize it, hand dryers are a key part of any commercial bathroom. They're t …

The most challenging component of hand washing is drying, especially in public restrooms. Because …