You might be surprised to see that the Dyson Airblade AB14 dB costs $1,349. You might think, "That's a lot of money to pay for a hand dryer – is that really worth the price?" The answer is, YES. It may be surprising, but the Dyson Airblade AB14 dB will PAY FOR ITSELF WITHIN ONE YEAR. Yup, that's it. Just one year and this awesome investment has paid for itself. How can that be? Well, paper towels cost an average of $1,460 PER YEAR, whereas this amazingly efficient dryer will only cost $40 per year to operate. Yes, you read that correctly. If you install a Dyson Airblade instead of using paper towels, you have the potential to save over 96% of the cost of those dollar-sucking paper towels every year that you utilize this amazing hand dryer. Instead of pouring that money into paper towels that are less efficient, less friendly to the environment, and way less friendly to your pocket, check out what the Dyson Airblade AB14 dB has to offer!

The Airblade AB14 dB is very fast and 50% quieter than the original AB04 dryer. Made from Polycarbonate ABS, this is one of the most durable hand dryers on the market today. It dries hands in 12 seconds from the 420 mph airspeed. That's right – with air blowing at 420 mph, how could anyone NOT have dry hands in 12 seconds? Another bonus about this feature is that because air molecules are warmed through friction caused by the extremely fast airflow, there is no risk for heating element failure. With durable, tough construction and a hygienic HEP filter, this hand dryer is an excellent choice for your hand dryer needs.

With good reason, the Dyson Airblade AB14 dB is popping up in restrooms all across the country. Why waste money monitoring, restocking and disposing of paper towels while watching them burn a hole in your pocket? Check out this fantastic dryer at HandDryerSupply.com, where you can calculate your savings with our handy calculator feature. Say goodbye to paper towels and get ready to say hello to saving money with the Dyson Airblade AB14 dB!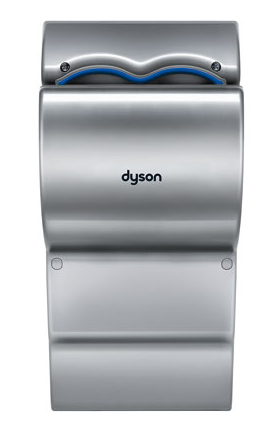 Recent Posts
Are you looking for an effective and efficient hand-drying method for guests of your commercial bus …

While not many people realize it, hand dryers are a key part of any commercial bathroom. They're t …

The most challenging component of hand washing is drying, especially in public restrooms. Because …