Hand dryers have come a long way in recent years – gone are the days of noisy, ineffective units that blow lukewarm air everywhere but toward your hands. Today, modern, energy-efficient high-speed hand dryers can now be found in restrooms across the country, ensuring customers get a fast and thorough hand drying experience. One model in particular, the Dyson Airblade AB14, truly stands out as one of the most durable and quiet hand dryers on the market today.
What makes the Dyson Airblade AB14 hand dryer so quiet? At 120 volts, it has been revolutionized with the new Dyson V4 digital motor, making it 50% quieter than the original AB04 hand dryer. How it can it be so incredibly durable? Dyson constructed this hand dryer to last, building it out of polycarbonate ABS to make it extremely sturdy. In fact, the Airblade AB14 has been subjected to stringent durability testing for both physical and chemical abuse, and has passed the rigorous demands of real environment use time and time again. As an added bonus, there is no risk of heating element failure as air molecules are warmed through friction by utilizing the Airblade's incredibly fast 420 mph airflow.
Not only is this modern hand dryer durable and quiet, but compared to traditional hand dryers, the Dyson Airblade db AB14 produces at least 73% less CO2 and up to 69% less carbon dioxide than recycled paper towels! Let's say you spend an average of $1,460 per year on paper towels…if you replaced those paper towels with an Airblade, you would only pay $40 per year to run the unit, a savings of $1,420! As you see, this hand dryer pays for itself in just one year of use. Since you have to monitor, restock and dispose of paper towels, installing an Airblade AB14 as a smart alternative will save you both time and money, while also benefiting the environment.
Worried about hygiene? Although many people believe that paper towels are a more hygienic option, it may surprise you to learn that this hand dryer uses a HEPA filter to remove 99.97% of bacteria from the air used to dry hands. This means that users' hands are dried using cleaner air, not dirty air with bacteria from the restroom environment. You no longer have to worry about a hand dryer blowing dirty air back onto your hands – they'll stay clean when you use the Dyson Airblade AB14!
It's clear that the Dyson Airblade AB14 hand dryer is a fantastic choice for any restroom environment. Durable, quiet, hygienic and effective, this hand dryer will make a great addition to your facility and an incredible upgrade for the holidays!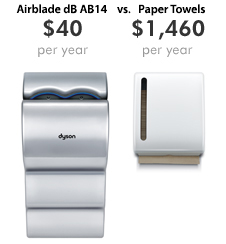 Recent Posts
When choosing the right-hand dryer supplier, there are several factors to consider. Knowing what t …

Hand dryers have become a standard fixture in public restrooms, providing a quick and efficient wa …

Hand dryers are a common sight in restrooms around the world. They are an environmentally friendly …