HandDryerSupply.com is excited to carry VERDEdri hand dryers, a new line of high speed, energy efficient and hygienic hand dryers from World Dryer. These stylish and highly effective high speed dryers possess all of the most desirable features in new hand dryer technology. The Verdedri hand dryer is modular surface mounted unit that is ADA compliant. By utilizing antimicrobial technology paired with a hygienic HEPA filter, the VERDEdri is able to effectively purify the air while users dry their hands. This advanced high speed dryer incorporates SteriTouch antimicrobial technology in its plastic molded components, as well as in its epoxy painted covers. SteriTouch helps to prevent the growth of mold, bacteria and fungus so that the dryer remains consistently more hygienic then other models on the market. No need to worry about dirty air being used to dry hands with this automatic hand dryer – it ensures clean hands stay that way.
Not only is it a more sanitary choice for your restroom, the Verde dri has an adjustable sound level and dry time to make it an ideal match for a variety of facility environments. In addition, its universal voltage and ability to automatically adjust to any electrical specifications make this an incredibly flexible dryer. As it uses just 950 watts of power, the VERDEdri hand dryer is extremely energy efficient but still highly effective since its single port nozzle provides powerful, direct airflow to dry hands in just 12 seconds. Its infrared sensor allows for fully automatic operation to ensure that the dryer only runs when needed and no energy is lost.
Available in black aluminum (Q-162A), white aluminum (Q-974A), brushed stainless steel (Q-973A) and polished stainless steel (Q-972A) finishes, the VERDEdri is not only advanced in its performance, but is incredibly stylish as well. This innovatively designed high speed dryer is a top choice for your restroom, and HandDryerSupply.com offers outstanding prices and free shipping on all Verde dri dryers. Check out the newest hand dryer from World Dryer, and bring the next level of high speed drying technology to your facility with the VERDEdri hand dryer!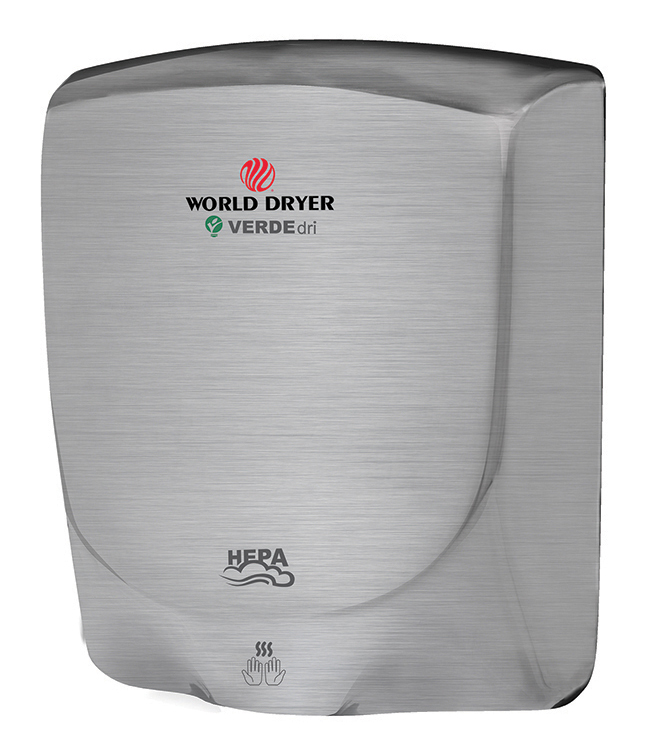 Recent Posts
Creating sustainable businesses gets talked about a lot these days, and one area that deserves atte …

In today's highly competitive hospitality industry, hotels must continuously strive to provide thei …

For many years now, electric hand dryers have been in use, but still, they have not gained the trus …