ExtremeAir Hand Dryer from American Dryer - EXT7-BG - Black Graphite Steel Cover - Surface-Mounted, Automatic - the best comparing hand dryers vs. paper towels cost!
Adjustable sound and speed
Universal Voltage
Antimicrobial infused air delivery system
Using only 540-300 Watts of power, this is the GREENEST hand dryer we can find!
American Dryer has reengineered the EXTREMEAIR EXT series hand dryer and packed it full of new standard features. The EXTREMEAIR EXT is the most compact high speed energy efficient hand dryer made in the USA. Using only 300-540 Watts of electricity - this is the first and only high speed hand dryer to reduce power consumption and still get the job done. The EXT series is a new series of hand dryer that is the greenest hand dryer that requires NO dedicated line. You can connect up to 3 dryers on one line! The benefits of the EXT include:
3 X FASTER than other green dryers!
90% Less Energy than other hand dryers
98% Cost Savings vs. Paper Towels
GreenSpec® Listed and Helps Qualify for LEED® Credits
EXT7-BG Specifications
Finish / Colors available
Black Graphite
Casing construction
Steel
Electrical
Universal Voltage:
100-240V - 50/60Hz
Operation
Automatic infrared activation
Hand dry time: 12+ second dry time, using only 300-540 Watts of power
Powerful Motor - 5/8 HP, 14,000-28,000 RPM
Mounting
Surface
Unit dimensions
9-3/8 H x 10-1/8 W x 5-5/8 D
Standard warranty
5-year premium warranty with same-day factory repair or shipment of replacement parts
Product Certification
RoHs, cULus, OSHA, LEED, GreenSpec, ADA Compliant (w/ recess kit)
Shipping Weight
ABS: 9 lbs
Steel 11 lbs
Stainless Steel: 11 lbs
Construction:
Adjustable sound and speed
New patent pending technology allows the hand dryer to be adjusted to your preference - providing the perfect balance of speed, energy efficiency and sound. It's ideal for sports stadiums, schools or a quiet library.
Universal Voltage
The new EXTREMEAIR can be connected to any voltage from 100 to 240 VAC - and 50/60 Hz.
Antimicrobial infused air delivery system
Better Hygiene - While all of our hand dryers eliminate paper towel mess, the EXTREMEAIR goes one step further with antimicrobial infused air surfaces.
Most Compact - 43% smaller than old industry standard high speed dryers
Vandal Resistant - Two tamper resistant screws secure the heavy duty cover to the steel base. The motor and heater are inaccessible to vandals. The air intake is shielded for additional safety
Heavy duty one-piece covers:
Flame retardant white ABS
Steel with white epoxy finish (M)
Steel with satin chrome finish (C)
Stainless Steel with #4 brush finish (SS)
Automatic Sensor - Ultra energy efficient microprocessor controlled sensor turns dryer on when hands are under the outlet for up to 35 seconds. Standby power is only one watt. RoHS compliant lead-free design.
Heating - uses motor heat to efficiently raise the air temperature to 85°F
New Longer Lasting Motor - New motor lasts up to 25% longer and is quieter. Produces 5/8 HP. Operates between 14,000 to 28,000 RPM. Automatic resetting thermal protector.
Installation:
Dryer Placement - Dryers should be placed at least 2 feet apart and at least 12" from washbasin. Do not install dryer over washbasin. Automatic dryers should be at least 18" above any projection which may interfere with the operation of the automatic sensor.

Electrical Requirements - EXT dryers do NOT require a dedicated line. Do not connect more than three (3) EXT hand dryers to one 20 amp line.

Mounting - One side of the dryer should be mounted to a stud. All surface mount dryers are provided with conduit entrances for both between-wall and surface wiring.

ExtremeAir EXT Hand Dryer - Spec Sheet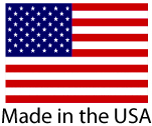 The American Dryer eXtremeAir EXT7-BG hand dryer is Made in the USA!