Global Touchless GX Series Hand Dryer from American Dryer - GX1-M - GX3-M - Steel White Cover - great auto hand dryers!

Finally - An Automatic, Compact and Quiet Hand Dryer for any budget!
The Global GX Series hand dryer from American Dryer is a budget friendly hand dryer that still has a 95% operational cost savings, without sacrificing a quiet and sleek design. The benefits of the GX Series include:
Maintenance Free
63 dB (Quietest in its class)
Vandal resistant
Exceptional value and reliability
SPECIFICATIONS
Finish / Colors available

White (ABS, Steel)
Black Graphite (Steel)
Chrome (Steel)

Casing construction
Polycarbonate-ABS
Steel
Electrical
Model GX1:
Model GX3:
110/120V - 12Amp - 1500W - 50/60Hz
208/240V - 6Amp - 1500W - 50/60Hz
Operation
Automatic infrared activation
Hand dry time: up to 80-second dry time
Powerful Motor - 1/12 HP, 3100 RPM
Mounting
Surface or recessed
Unit dimensions
10-1/8 W x 9-3/8 H x 5-5/8 D
Standard warranty
GX: 3-year limited warranty.
GX-M/BG/C: 5-year limited warranty.

Includes same day factory repair or part replacement. See owner's manual for details.
Product Certification
RoHs, cULus, OSHA, ADA Compliant (w/ recess kit)
Shipping Weight
GX Series:
GX-M/BG/C Series:
8 lbs
10 lbs
Construction:
Tamper Resistant - Tamper resistant screws secure cover to base. Air intake vents are shielded for additional safety.
Heavy duty one-piece covers & Finish - One-piece heavy duty, flame retardant ABS polymer with white finish. Optional one-piece 18 gauge steel cover finished with electrostatically applied, chip-resistant white epoxy finish (M), or chrome-plated satin finish (C).
Nozzle & Push Button - Chrome plated zinc die castings. 360° revolving nozzle is standard. A fixed nozzle (F) is optional on all models.
Timer (DR Series) - Push button models use a heavy duty timer for extended life. Turns on with a light touch. Turns off automatically
Automatic Sensor - RoHS compliant lead-free design. The dryer will run for up to 80 seconds while hands are under the outlet
Heating Element - Constructed of NiChrome resistance wire with automatic resetting thermostat. Side mounted heating element operates in the black range for maximum life.
Installation:
Dryer Placement - Dryers should be placed at least 2 feet apart and at least 12" from washbasin. Do not install dryer over washbasin. Automatic dryers should be at least 18" above any projection which may interfere with the operation of the automatic sensor.

Electrical Requirements - Hand dryers require a dedicated circuit (max. 20 amp) and must be properly grounded.

Mounting - One side of the dryer should be mounted to a stud. All surface mount dryers are provided with conduit entrances for both between-wall and surface wiring.

American Dryer Hand Dryer - Product Guide


American Dryer Global GX Series Hand Dryer - Spec Sheet


American Dryer Global GX Series Hand Dryer - Owners Manual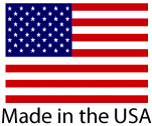 The American Dryer GX Series hand dryer is MADE IN THE USA!
HandDryerSupply.com is your source for the American Dryer Corp GX-M hand dryer.